WELCOME TO THE COUNTRYSIDE
Coliving close to Hamburg
Hamburg – that's a lively city with all its possibilities. Coworking spaces, cafés, cinemas, theatres: all this makes Hamburg special. And that's why we love the Hanseatic city. What we sometimes lack in Hamburg, we have more than enough of here in Borsfleth (Schleswig-Holstein): peace and space. Space to let your mind wander and concentrate on yourself.
COLIVING OUTSIDE HAMBURG: WHAT COUNTRY LIFE IS ALL ABOUT
Whether it's a walk on the dyke, hiking in the Kremperheide, a stroll through town in tranquil Glückstadt or an after-work beer in the garden: in Borsfleth there are many opportunities to be outside and enjoy nature and tranquillity. From some of the rooms in the house we can see the sheep running across the dyke, there are horses in the meadow behind the garden and delicious vegetables grow in our raised beds. The eggs for breakfast come from five friendly hens that live a happy chicken life in the garden.
We find: Coliving in the countryside has a very special charm. And if you do feel like going to the big city: it takes about 50 minutes to Hamburg by regional train from the nearest station (Krempe) – without changing trains.
Sounds like a place for you?
Borsfleth
Our Coliving Home near Hamburg
Our coliving space is located where the Stör flows into the Elbe – in Borsfleth, a small, tranquil village with about 800 inhabitants in Schleswig-Holstein, about 60 km from Hamburg. In addition to its countless sheep, Borsfleth boasts a library, a restaurant and several farm shops. A bathing lake is also not far away.
Our house is situated on the edge of the village between the dyke and the horse pasture on a service road with little traffic. Apart from the occasional bleating of sheep, peace and quiet are guaranteed here.
The picturesque town of Glückstadt can be reached in 20 minutes by bicycle along the dyke. In Glückstadt you will find all the amenities of a small town: nice cafés, drugstores and supermarkets, various shops, doctors and much more. Take a look at the Glückstadt Tourism website – there's lots of information on what you can do here.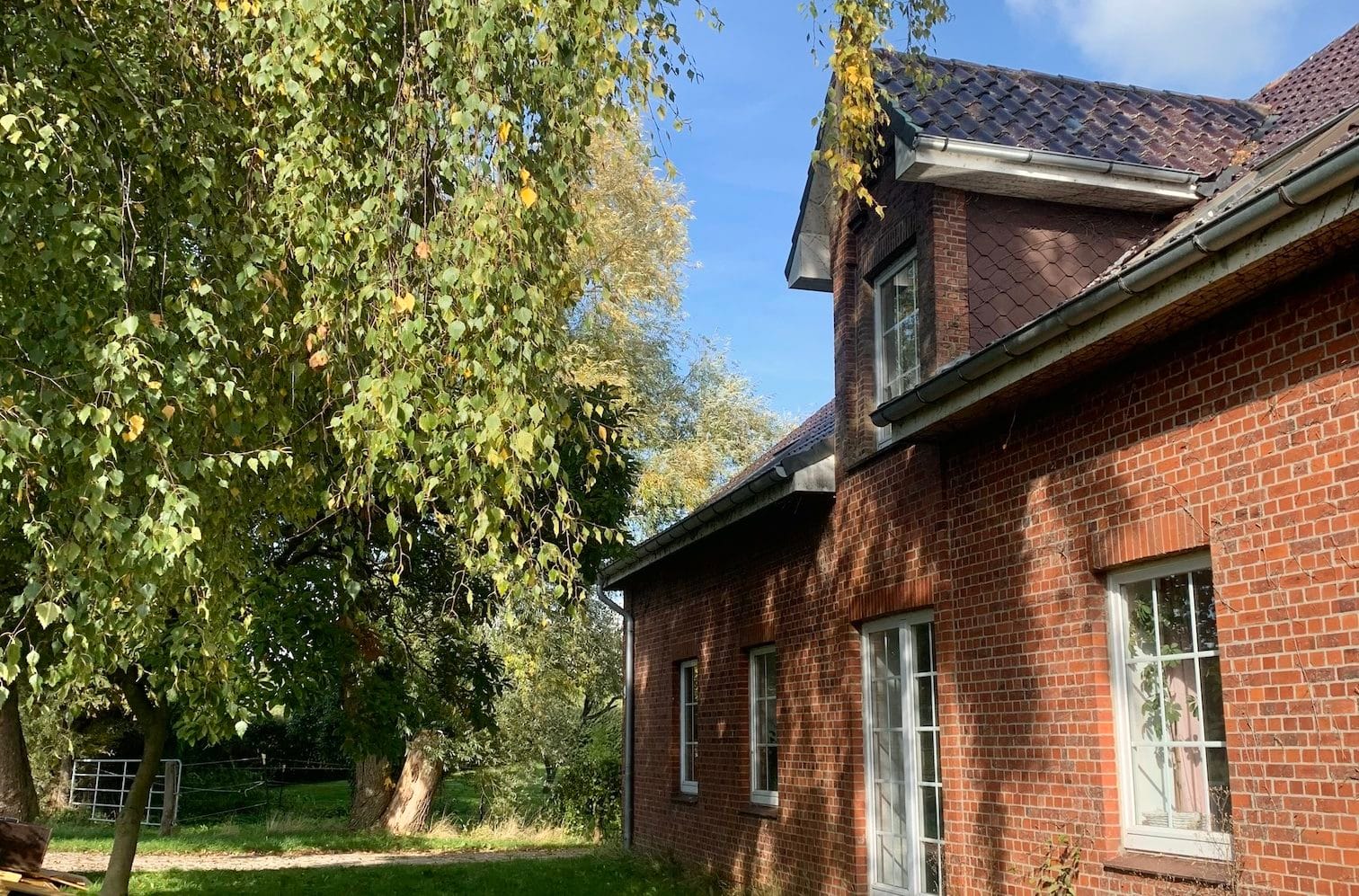 cosy & familiar
The Coliving-House
Our coliving house outside Hamburg has 200 sqm. It has five rooms, all with a view of nature and 15-25 sqm living space. Three of them are available for rent. There are also two shared bathrooms and a kitchen with a communal dining area; the heart of the house. In the coworking room on the ground floor you surf with fast WLAN (250 upload, 50 download) and can thus work productively. In addition to the human residents, five hens (Hermine, Ilse, Babett Lilli, Hildegard and Selma) and Balu the cat also live here. By the way: If you don't have your own bicycle, you can borrow one from us. It won't get you to Hamburg, but it will get you comfortably to Krempe or Glückstadt.
Do you still have questions about coliving?
Learn more about communal living and working in the countryside in a personal call.